Springtime is here!
While it may not always feel like it, the days are getting longer, the weather is getting warmer, and fleas, ticks and heartworms are making themselves known again. Springtime means it's time go get serious about these pests. There are some exciting new ways of combatting these nasty critters!
I have personally switched my dog, Lucy, from oral heartwormmedications to a once every six month injection that is very economical and super effective. It is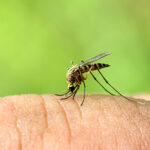 called Proheart. One Proheart injection is given in the office and we will send you a reminder to bring your pet in for the second injection in six months. We know you are very busy and having a twice yearly injection to protect our pets from heartworms is so convenient and easy!
For fleas and ticks, I use a new medication that we have started offering recently called Bravecto. Bravecto works by killing fleas and ticks for three months with just one pill! That means that you don't have to try to remember to give your pet's their prevention every single month! With this new protocol, you only have to give your pet's an oral medication four times a year, and we take care of the rest!
Sounds pretty good, right? I know I can use all the help I can get when it comes to remembering my pet's medication! If you are interested in learning more, don't hesitate to call us at 937-506-4284 and one of our staff members would be happy to discuss these medications with you in further detail.
-Dr. Jim